Beauty & Self
Books & Music
Career
Computers
Education
Family
Food & Wine
Health & Fitness
Hobbies & Crafts
Home & Garden
Money
News & Politics
Relationships
Religion & Spirituality
Sports
Travel & Culture
TV & Movies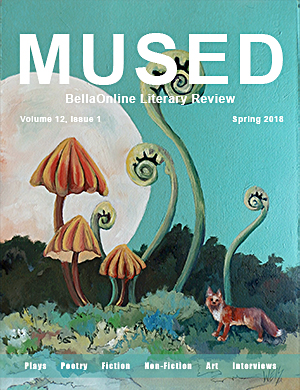 It can seem sometimes as if our world is whirling faster than we can keep up with. It can become overwhelming. Exhausting.

A balm which rejuvenates is to explore the creative efforts of individuals around us. To begin, turn off the noise and clatter of the world at large. Take a deep breath and instead focus on connecting with one fellow human being who presents their jewel of a thought to you. Examine it mindfully. Consider its meaning. Soak in the moment with this one human. Then connect with another. And another.

Enjoy the Mused Spring Equinox 2018 Issue



The Bhagavad Gita
Yoga - Korie Beth Brown, Editor

What is this epic poem, and why is it so central to yogic philosophy?




Mason & Calpini Needle Tatting
Tatting - Georgia Seitz, Editor

Mary T. Mason and Adolph M. Calpini's Method of Tatting. This information was found in the actual public patent application entered on July 24, 1922, and published on April 15, 1924. #1,490,176.




Downsizing Made Easier
Senior Issues - Pamela Slaughter, Editor

This article offers some simple, straightforward advice on how to make downsizing easier. Learn about the power of a using a checklist. Get ideas of how to avoid crowding out your new home with unneeded items. Learn why those that are downsizing should avoid renting storage units for convenience.




Watermelon, Paneer & Cucumber Skewers Recipe
Indian Food - Sadhana Ginde, Editor

A simple, refreshing & delicious combination of fruit, protein & vegetable all in one heavenly little bite! These yummy skewers are essentially summer on a stick, serve them as appetizers, snacks or even as a side dish. I especially love them with grilled dishes & dining "al fresco".




Books for Shawl Knitting
Knitting - Korie Beth Brown, Ph.D., Editor

If you enjoy knitting shawls and wraps, you will want to check out these tomes!




American Artists From the Hudson River School
Art Appreciation - Camille Gizzarelli, Editor

On a recent road trip through the mid-Atlantic states, my curiosity peeked about the artists from the Hudson River School. I'll discuss some of their inspiration and achievements.


| Google+ |
E D I T O R R E C O M M E N D E D
EatingWell Magazine


EatingWell is the award-winning magazine that focuses on healthier eating habits for the entire family. EatingWell magazine features articles on subjects such as how to prevent weight gain during the holidays, foods that boost metabolism, healthy budget dinners, and dangerous ingredients that you may not realize you´re eating.
Ultra Luster Waterless Car Wash


Ultra Luster Waterless Car Wash: Article Coming in Spring but you can buy it now! Waterless Car Washing just got easier and the results just got better! Get yours now at: UltraLuster Wash, Phone: 877-677-4463, Email: sales@ultralusterwash.com, distributors@ultralusterwash.com shipping@ultralusterwash.com customerservice@ultralusterwash.com
Low Carb - First Two Weeks


Get instant access to step by step instructions, handy tips to get you through the rough spots, background information on low carb dieting, and more.