Beauty & Self
Books & Music
Career
Computers
Education
Family
Food & Wine
Health & Fitness
Hobbies & Crafts
Home & Garden
Money
News & Politics
Relationships
Religion & Spirituality
Sports
Travel & Culture
TV & Movies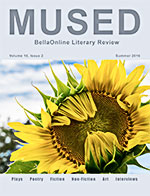 For many people, summertime is the perfect time to explore creativity. Plein air artists bring easels to gardens and beaches, showcasing nature's colors in oils, acrylics, and watercolors. Photographers ferret out a million sights to immortalize. Poets and writers stretch languidly beneath a shady oak tree, listening to the gentle buzz of insects, and constructing entire worlds out of the ether.

Enjoy the creativity of our community of artists - and then explore your own! We'd love to see your works for upcoming issues!

Summer Solstice 2016 issue of Mused

The Ultimate Cheat Sheet On Recycling
Body Care - BB Lee, Editor

Keep the planet green by recycling.




Milk and IVF Success
Infertility - Hannah Calef, Editor

Regular milk consumption has been linked with increased IVF success




Chakra Balancing Using Crystals
New Age - Deanna Leigh Joseph, Editor

If you are interested in clearing your chakras, and you have a strong affinity for working with crystals, you may want to try this simple technique for clearing your chakras using some of your favorite crystals.




Visit Washington Park while in Portland, Oregon
Family Travel - Tiffiny Spire, Editor

If you're visiting Portland, Oregon (or anywhere near), be sure to include a trip to Washington Park in the itinerary. It's a great place for the whole family to explore.




Slow Cooker Chicken & Veggie One-Pot Recipe
Quick Cooking - Karen Hancock, Editor

Too busy to cook? This easy dish goes together quickly - in 15-20 minutes, and cooks while you deal with more important matters. Pair it with crusty bread and your entire dinner is done.




Sewing for the Best Fit
Sewing - Cheryl Ellex, Editor

Whether you are sewing a garment to fit a toddler, teen, mature figure, hard-to-fit body contours or challenging physical circumstances, strive for the best fit that pattern and fabric will allow.


| Google+ |
E D I T O R R E C O M M E N D E D
Christian Living Site Shop


Find book reviews of Christian Books both fiction and non-fiction. Read my experience in purchasing a Bible Book Cover.
The Weiser Field Guide to Cryptozoology


The Weiser Field Guide to Cryptozoology by Deena West Budd includes information, interviews, and stories about forty different cryptids seen in various places all over the world by credible eyewitnesses like policemen, rangers, and doctors. Readers will learn where and how to find flying humanoids, hairy humanoids, giants of all kinds including rabbits, bats and spiders, goblins, and vampires.
Pinnacle Car Care


The Creme De La Creme of Ultimate Car Care is In the House! Using Pinnacle´s product line is like a visit to the salon and the results--magnifique!