Beauty & Self
Books & Music
Career
Computers
Education
Family
Food & Wine
Health & Fitness
Hobbies & Crafts
Home & Garden
Money
News & Politics
Relationships
Religion & Spirituality
Sports
Travel & Culture
TV & Movies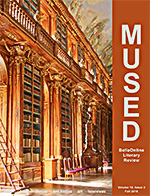 The autumn equinox, that balance point of light and dark, is closely tied to the moon. In China the Moon Festival happens around the autumn equinox, celebrating gratitude and the warmth of good friends and family. This year it was Sept 15th. Our last eclipse of 2016 was a penumbral lunar eclipse on Sept 16th. It fell in conjunction with the full harvest moon, also a symbol of thankfulness and appreciating those who care about you. The autumn equinox is a perfect time to add to those celebrations. It's a wonderful moment to treasure all we have and to share warmth with those who support us.

Autumn Equinox 2016 issue of Mused

Stamp Collecting Traditions
Stamps - Gary Eggleston, Editor

tamp collectors, enthusiasts, and philatelists take so much interest in stamps because of the interesting story told by each stamp, and even by each stamp issue. There are a huge variety of things that may be collected in relation to stamps, and each individual collector can make a choice over categ




Paper, Plastic, Metal?
Coin Collecting - Gary Eggleston, Editor

Coins, cash, and currency are under attack everywhere. Sweden, Denmark, and several other countries are now vowing to do away with physical cash, and forcing citizens to rely on debit and credit cards as well as various vulnerable forms of electronic wizardry to make their financial transactions.




Cannabis and Magick
Pagan - Ian Edwards, Editor

Some examples and insights about the use of cannabis in magick and spellcraft




Ghosts of Garnet, Montana
Paranormal - Deena Budd, Editor

Garnet, Montana was built as a temporary town for the miners flooding in from California and Colorado. Amazingly, over a century after it was created, there are still parts of the of the ghost town remaining. There are also many stories that past residents of the old town remain as well.




Bean Bags for Kids
Crafts for Kids - Launa Stout, Editor

All you need is some fleece and some beans! This could be a service project for cub scouts or girl scouts...It is always good to involve youth in service.




Astronomy Photographer of the Year 2016
Astronomy - Mona Evans, Editor

The Sun as you've never before seen it. A twilight aurora, lunar landscapes, and galaxies far far away. There's all that and more in the Insight Astronomy Photographer of the Year 2016 exhibition at the Royal Observatory Greenwich.


| Google+ |
E D I T O R R E C O M M E N D E D
Buddha´s Daughters


Buddha´s Daughters: Teachings from Women Who are Shaping Buddhism in the West is a collection of teachings compiled and edited by Andrea Miller, a writer and editor at the popular Buddhist magazine Shambhala Sun. It includes beautiful teachings from some of the most prominent women teachers in the West, including Lama Tsultrim Allione, Sharon Salzberg, Tara Brach, Pema Chodron, and more.
Speekee


Speekee, Spanish for children. Simply... ¡Fantástico! I found Speekee materials [DVDs, audio CD, parent guide] very complete, easy to use, and the method followed to teach Spanish to young children is effective from the very beginning. By Angeles Fernández Get the offer! Type in BELLAONLINE and get the SPEEKEE discount!
Visual Link Spanish


Spanish language, interactive lessons. You can try 11 lessons for free. I´ve been recommending this course for several years, as I find it very intuitive.