Beauty & Self
Books & Music
Career
Computers
Education
Family
Food & Wine
Health & Fitness
Hobbies & Crafts
Home & Garden
Money
News & Politics
Relationships
Religion & Spirituality
Sports
Travel & Culture
TV & Movies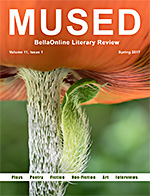 In our modern world of 24-hour diners and around-the-clock email, it sometimes seems as if we've lost track of nature's cycles. But then the Spring Equinox comes along and reminds us to pause. For thousands of years, cultures around the world have recognized this one special day as representing a balance of light and dark. It's a unique moment in time where our world settles in equilibrium – just for a breath. And then the sunlight shines out and pulls us deeper into Spring.

Enjoy the Mused Spring Equinox 2017 Issue



Public Face Private Vice Book Review
Suspense / Thriller Books - Karen Hancock, Editor

Charlie and his team are investigating the murder of a popular BBC television personality. While the story and characters are fun, this book is written in a very juvenile manner and unless readers have lots of patience, is one that should probably be skipped.




Ghostbusters 2016 Movie Review
Action Movies - Dianne Walker, Editor

"Who you gonna call?" This remake of the cult, classic original stars an all-female cast of ghostbusters for you to call. Melissa McCarthy and Kristen Wiig, bring the laughs as Ghostbusters tries to rid Manhattan of a new onslaught of ghosts. Paranormal activity becomes paranormal comedy!




Avoid Overcommitment in Graduate School
Graduate School - Nicole Amos, Editor

Once you make the decision to commit to going back to school the excitement and motivation to begin can overshadow your capacity for taking on more in your life. Let's look at how to pursue your graduate school goals without overcommitting yourself.




Can Endometrial Injury Boost Clomid Success?
Infertility - Hannah Calef, Editor

Endometrial scratch biopsy may almost triple pregnancy rates after Clomid treatment




Heckedy Peg Picture Book Review
Reading - Connie Mistler Davidson, Editor

Heckedy Peg is the melding of Audrey Wood's words and the paintings of Don Wood to make a compelling picture book that is a treat for all ages. Young readers love the story and enjoy the pictures of the characters, especially the children. Kids like to discover the nuances of each of the pictures.




Rango – Film Review
Self Development - Dr JOY Madden, Editor

Rango is not just another animated film. As covered in this self development review, here is a chameleon who seeks purpose in life and goes from simply existing to becoming highly respected. With quirky dark humour, great animation and weird characters, this is definitely a film to see.


| Google+ |
E D I T O R R E C O M M E N D E D
Simple Delicious Italian Recipes


Simple Delicious Italian Recipes. Authentic Italian recipes easy to follow and simple to prepare, written by Cinzia Aversa, Italian Food Editor at BellaOnline.com. A perfect gift idea for any Italian food lover.
Original Cat Design Products


From Cafepress - Purchase a wide varity of quality products, from t-shirts to magnets, tote bags to mugs and much more, with this original cat design, created by the editor of the Cats Site.
How to Buy Your Next Car


A true car buying expert explains in detail how to buy your next car. From credit and financing to dealer cost and sales tactics, "How to Buy Your Next Car" is full of insightful information to help you avoid making typical car buying mistakes.