Beauty & Self
Books & Music
Career
Computers
Education
Family
Food & Wine
Health & Fitness
Hobbies & Crafts
Home & Garden
Money
News & Politics
Relationships
Religion & Spirituality
Sports
Travel & Culture
TV & Movies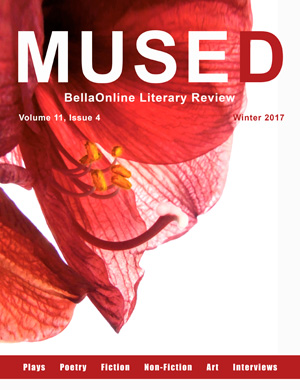 We all travel on this blue-green ball around our very own star each year, sliding a little closer, sliding a bit further away. The balance is critical. Too much closer and we'd roast. Too much further away and we'd freeze.

We should be aware of just how blessed we are that our Earth is "just right" - and do what we can to keep our world healthy. It's the only one we have.

Enjoy the Mused Winter Solstice 2017 Issue



Essential Pantry Items to Start Cooking Chinese
Chinese Food - Lila Voo, Editor

Are you interested in learning how to cook Chinese? If so, then here are the pantry items that you will need to have on hand for your first basic Chinese recipes.




Using Orchids as Medicine
Orchids - Anu Dharmani, Editor

Orchids have been used as a cure for number of ailments by local people and tribals. Checked out how you can also use your orchids as a medicine.




Benefits of Fish Oil in the Mediterranean Diet
Nutrition - Moss Greene, Editor

A healthy Mediterranean diet, that includes omega 3 fish, has now been shown to reduce your risk of heart disease, stroke, metabolic syndrome and diabetes.




Girl in Snow Book Review
Suspense / Thriller Books - Karen Hancock, Editor

Written in the style of Gone Girl, this fascinating debut novel tells the story of a murdered 15 year old girl through the eyes of Cameron, who stalked her, Jude, who hated her, and Russ who is investigating the murder. Well-written and fascinating.




Seeds of Destruction
Baptist - Celestine A. Gatley, Editor

Your thoughts can spiral out of control. One simple thought can plan a seed of destruction in your life. A simple thought that you may consider harmless could turn into a life separated from God.




Negative Talk – 2 Words That Stop Self Development
Self Development - Dr JOY Madden, Editor

People are forever using negative talk or negative speak (negative words and phrases) in their daily conversations without realising the huge impact this can have on their life. This self development article discusses one of the most common phrases that can significantly affect personal development.


| Google+ |
E D I T O R R E C O M M E N D E D
Mastering Essential Math Skills


This exercise book is an excellent resource to practice and review math skills you´ll need to establish a strong foundation and smooth transition into Algebra and other higher math courses. Workbooks are available for 4th – 5th grade and middle school / high school.
Jesus of Nazareth


Award winning film produced by Franco Zeffirelli, depicts the life of Jesus Christ from birth to resurrection. Originally made for television in 1977, this set is available on DVD or VHS. It´s been a few years since I last watched this awesome depiction of Christ´s life, but it still remains one of my favorite.
True Balance by Sonia Choquette


This terrific guide gives you fun, everyday ideas with which to open and strengthen all seven of your chakra energy-centers, including the third-eye chakra and crown chakra which help you to connect with psychic phenomena and the divine.